Full link local newspaper cover on Can't Stop Malaysia concert.
Kalau sebelum ni Sally dah cerita pasal 2 media elektronik kat Malaysia ni yang dah cover pasal
2014 CNBLUE Live Can't Stop in Kuala Lumpur,
hari ni Sally senaraikan antara surat khabar yang lain yang ada cover jugak...Just untuk tambahan bahan bacaan jela kalau nak....Sally pun baru tau ada yang lain ni...
Utusan Malaysia
Full link to read:
Terlerai sudah rindu CNBLUE
Kosmo Newspaper
Full link to read:
CNBLUE penuh aura
The Star Newspaper
Full link to read:
Second concert by K-rock band CNBLUE is a frenetic showcase
Harian Metro newspaper
Full link to read:
CNBLUE tunjuk taring sebenar
News Strait Times newspaper
Full link to read:
Blue the colour of adulation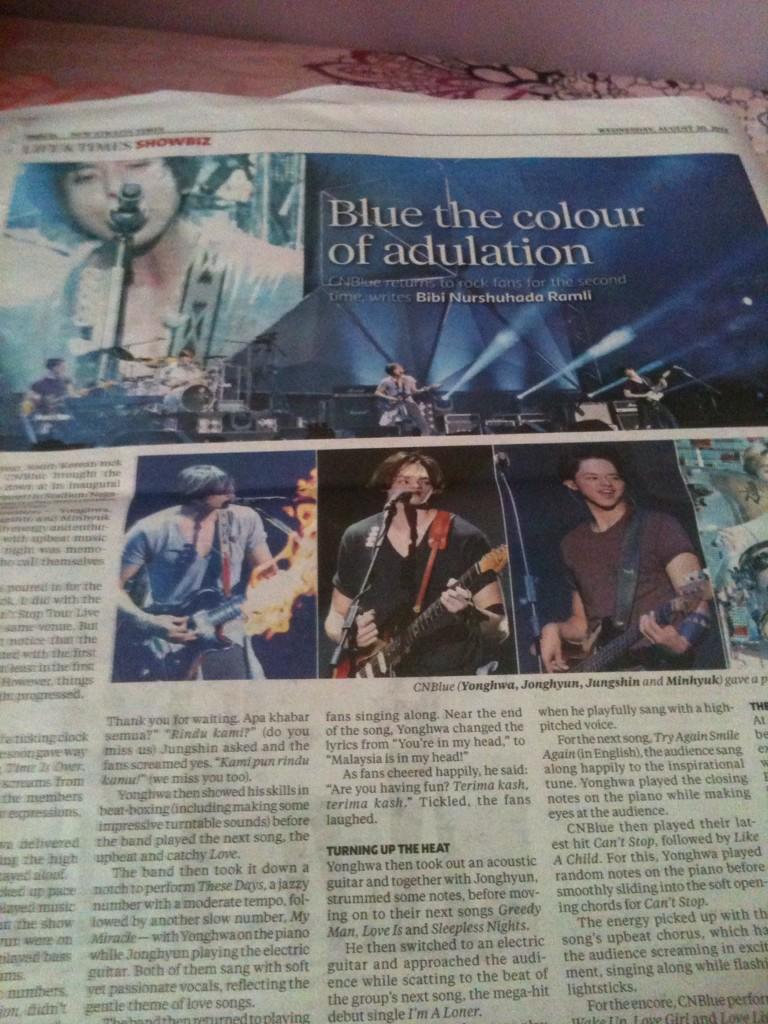 Overall, banyak jugak media yang memuji akan kekuatan fizikal dan vokal CNBLUE disamping kemahiran mereka bermain pelbagai jenis alat muzik...tak dinafikan mmg itu antara kepakaran mereka yang melonjakkan nama mereka dalam industri muzik di Korea dan jugak di dunia...

Bangga...itu jela yang mampu Sally cakap...abang-abang biru kita mmg sangat talented..ya..ya...mmg Sally sangat exaggerated bila cerita pasal dorang kan..? Maafkan jela saya ye..kekekeke...I just loved them for no reason..hahahaha...